SAFE‐T – Safety Acid Bowl Cleaner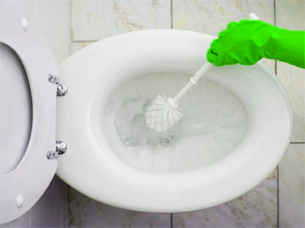 Description: Safe‐T contains special detergents and uses phosphoric acid as one of its main components. This creates a powerful and safer product as compared to hydrochloric acid. With proper dilution, this product can also be used to clean grout, tiles, shower stalls, and bathtubs.
Dilution: This product is to be used as is for best results.
Surfaces & Dirt: Can be safely used on porcelain, ceramic, chrome, tile, tubs, toilets, urinals and sinks to remove mineral deposits, rust stains, dirt, body oils, grime, etc.
pH:

3.00 (+/‐ 0.25)

Colour:

Green

Fragance:

Apple

Sizes:

12x1L
20L
210L