PURE VISION CONCENTRATE – Window & Glass Cleaner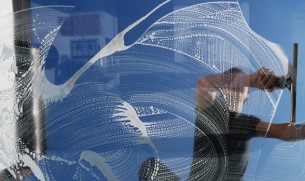 Description: For fast and effective cleaning of windows, mirrors, and glass surfaces, Pure Vision will do the job. It contains the perfect mix of detergents, surfactants, and isopropyl alcohol to create a fast acting cleaner that does the work for you. This product will not streak or leave smears on any hard surface. Also available ammonia free – code 0810.
Dilution: Light duty = 1 part to 16 parts water. Regular duty = 1 part to 8 parts water.
Heavy duty = 1 part to 4 parts water.
Surfaces & Dirt: This product is to be used on glass and mirrors including other types of hard surfaces such as countertops and tabletops. Will remove finger prints, grease, dirt, grime, etc.
pH:

9.5 (+/‐ 0.25)

Colour:

Dark Blue

Fragance:

Ammonia

Sizes:

4x4L
20L
210L